POSTER PRESENTATION AND RESEARCH EXHIBITION FAIR OF THE DEPARTMENT OF OPTOMETRY AND VISUAL SCIENCE
Mon 20 Sep 2021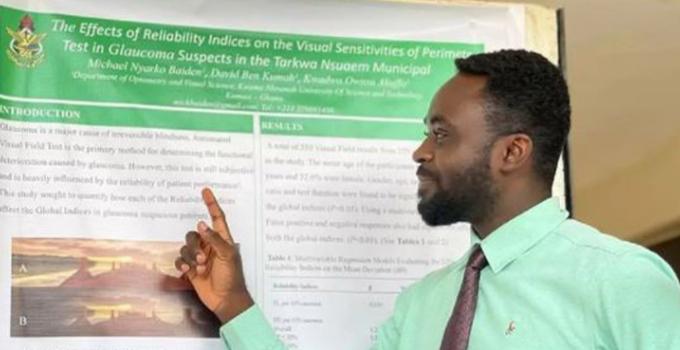 The Department of Optometry and Visual Science at the Kwame Nkrumah University of Science and Technology on Monday, September 20, 2021, organized its maiden poster and research exhibition fair for final year Optometry students to showcase their unique projects. The program saw forty-two Doctor of Optometry candidates, over twelve optometry faculty members, and other science and innovation enthusiasts from the university community participate.
The optometry candidates presented on novel projects on varying topical eye-related issues, notably (i) ocular infections and antimicrobial resistance, (ii) the role of diet on visual and cognitive function,  (iii) eye care utilization patterns, (iv) the impact of COVID 19 on students cognitive function and (iv) modern technological advances in detecting ocular anomalies and teleophthalmology.
Given the impact of the COVID 19 pandemic, the department adopted this approach as a surrogate for the traditional student-faculty project defense. However, considering the broader implications and recommendations the department has received from participants, it cannot wait to host another session for the 2022 optometry graduands.
Below are some highlights of the event: